New Products for 2013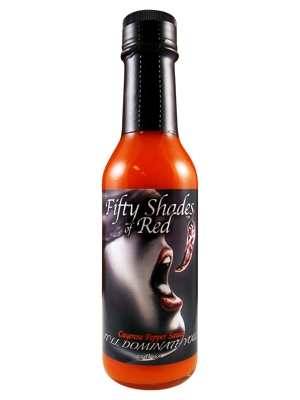 Don't look now but the Christmas and holiday cooking & gift-giving season are here - are you ready? Our online store has what you need, from zesty sauces and condiments to unique sauce gift sets. And what better place to start than our newest products, including Fifty Shades of Red Hot Sauce and rich & smoky Mountain Man Chipotle BBQ Sauces, plus new gift boxes from Tahiti Joe's and Ring of Fire - and everything is on sale! Check out these new products at the Carolina Sauces online store:
PETA (People Eating Tasty Animals) T-Shirts
Dave's Insanity Blow-Up Display Bottle
Slap Ya Mama Cajun Fish Fry Seasoning Mix
Slap Ya Mama Seafood Boil Seasoning
Melinda's Scorpion Pepper Hot Sauce
Heartbreaking Dawn's Nuit En Enfer Hot Sauce
Margaritaville BBQ Sauces, Rubs & Marinades
SuckleBusters Texas BBQ Sauces, Rubs, Seasonings & Pepper Sauces
Keep Calm and Pour on More Hot Sauce, in Cayenne, Chipotle & Habanero
Pain is Good KC Original BBQ Sauce
Leon's Southern Charm Hot Sauce
Handyman Sweet N Sassy BBQ Sauce
DEFCON "Habby Horse" & "Habby Pony" Horseradish Sauces
American Style BBQ Sauces & Rubs for Beef, Chicken & Pork
Mad Dog 357 Plutonium 9 Million SHU Pepper Extract
Trinidad Traders Hot Sauce Gift Box
Dried Whole Ghost Pepper Chilies
Pure Bhut Jolokia Ghost Chili Powder
Pure Scorpion Pepper Chili Powder
Red Habanero Pepper Mash by the Gallon
Gallon jugs of Ole Ray's Apple Cinnamon BBQ Sauce
Tahiti Joe's Hot Sauce Gift Box
Ring of Fire Hot Sauce Gift Box
Mountain Man Chipotle BBQ Sauce
Fifty Shades of Red Hot Sauces
The Three Stooges Hot Sauces featuring Moe, Larry & Curly
Heartbreaking Dawn's Mauvais Sang
Salvation Sauce Hot Sauces with mini-Bible Keychains
FREE Newsletter!
Sign up for our FREE monthly E-Newsletter to receive special coupons, find out about exclusive sales and discounts, get info on the latest new products in our online store, get recipes, cooking tips, gift ideas and other useful information about hot sauce, BBQ sauce and other delicious products available from us and our Partners.
North Carolina Products
If you are looking for authentic North Carolina barbecue sauce and other products made in NC, look no further than our North Carolina Products page! From country ham and other pork products to smoked turkey, western NC or Piedmont style BBQ sauce to vinegar-based eastern NC barbeque sauce, Bone Suckin' Sauce to Toad Sweat Dessert Hot Sauces, and even officially licensed UNC and NC State and ECU collegiate hot sauces and BBQ gift sets, you can find them all in our North Carolina section (as well as on the product category pages).
Jim's Own BBQ Sauces & Rubs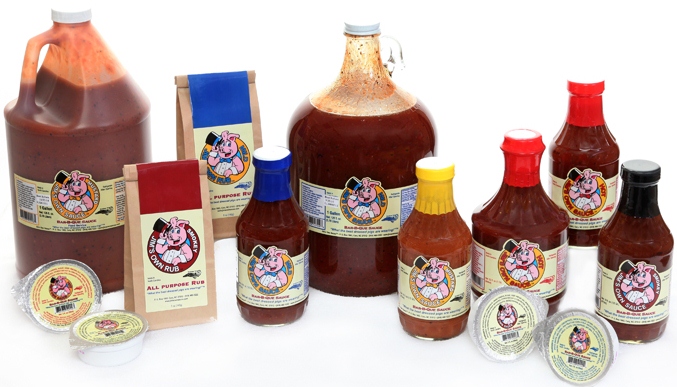 Jim's Own BBQ Sauce is a deliciously tangy, slightly sweet Western NC style (aka Lexington or Piedmont) BBQ sauce, full of food-friendly flavor and without the overpowering vinegar taste of Eastern NC sauces. Based on an old family recipe from Jim's mother's kitchen over 50 years ago, Jim started bottling and selling his mild Homestyle version and fiery Hot BBQ sauce in 1997. Since then Jim's Own Sauce has won numerous awards and a loyal following among North Carolina barbeque afficionados. Recently, the folks at Jim's Own have introduced the tangy Jim's Own Mustard BBQ Sauce to please fans of low-country or South Carolina style barbecue, and the bold-flavored Jim's Own Smokey BBQ Sauce. All 4 flavors of Jim's Own Bar-B-Q Sauce are available in 16oz bottles, 32oz quarts, plastic gallon jugs, and by the case. We also have the brand-new Jim's Own All-Purpose BBQ Rubs in savory-sweet Mild, earthy Smokey, robust Pincho, and zesty Safari, which are mouthwatering on pork, beef, chicken, turkey, and even seafood & vegetables. If you need a special gift, we offer Jim's Own Gift Baskets, plus grilling aprons and t-shirts with the Jim's Own Sauce logo and slogan, "What the best-dressed pigs are wearing."
Gourmet Gift Baskets
A gourmet gift basket stocked with hard-to-find and unique products is the perfect special-occasion gift for anyone who enjoys good food, from the home chef to the business colleague. Our selection of well-appointed gift baskets and strikingly packaged gourmet gift boxes has something for everyone, from the coffee lover to the chocoholic, the bacon freak to the caviar connoisseur, the international gourmand to the garlic lover. Visit our new Gourmet Gift Baskets page to see just a few of the amazing gift boxes and gift baskets available from our partners, and be sure to keep checking back because we will be expanding our offerings with additional themed gifts.
BBQ Sauce & Dry Rubs
The Carolina Sauce Company is located in the heart of barbeque country, and we've got a special affection for the local barbeque sauces. While many might consider the superiority of dry rubs or mustard-, tomato- or vinegar-based barbeque sauces to be a religious debate, we love them all. We're happy to offer barbecue sauces from North Carolina and other parts of the US, as well as some international favorites. We also have an extensive selection of dry rubs and seasonings. You could spend hours researching different barbecue recipes and slaving in the kitchen trying to perfect your barbeque sauce or rub recipe, OR you could spend just a few minutes here and select a delicious award-winning sauce or rub that's sure to please your palate. Whether you spell it Barbecue, Barbeque or BBQ, and whether you like your ribs wet or dry, you'll find the perfect sauce or rub for your grilling masterpieces right here! We also have hot sauce, if you need some heat to wake up your homemade barbecue sauce recipe.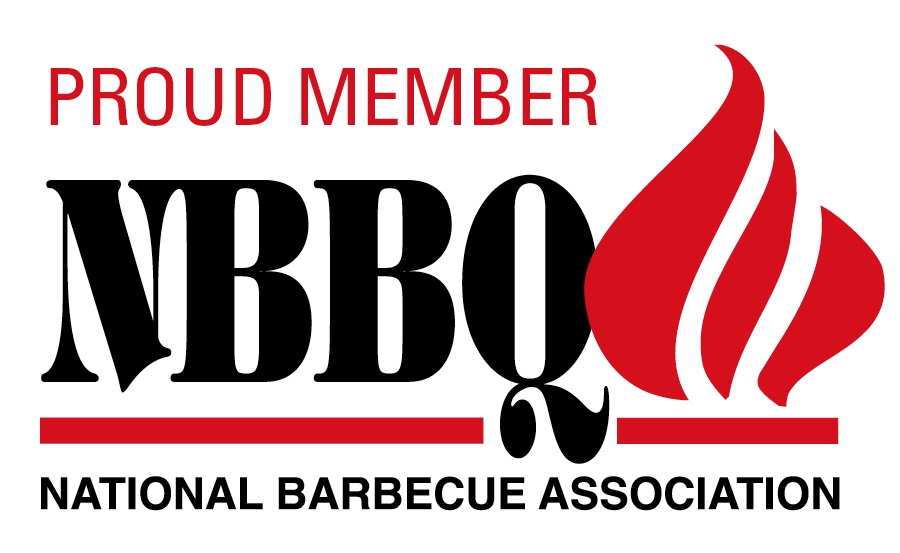 Best Selling Sauces

Want to know what our most popular products are? Curious to learn what other chiliheads and fellow BBQ lovers are eating? See our list of Top Selling Sauces & Products, listed below! We'll update this list each month to show the best-sellers from the previous month. Additionally, you can check out our lists of Best-Selling Products for 2012, including Best-Selling Hot Sauces, Best-Selling BBQ Sauces, Best-Selling Rubs & Seasonings, Best-Selling Marinades & Dressings, Best-Selling Salsas, Wing Sauces & Condiments, Best-Selling Jamaican Jerks and Curry, Best-Selling Snacks & Sweets, Best-Selling North Carolina Products, Best-Selling Gifts, and Best-Selling Meats & Cheeses. Below are the Top Ten best-selling sauces & other products for November:
3. Blair's Death Rain Habanero Potato Chips
4. *TIE* Gator Hammock Swamp Mustard *and* Matouk's Calypso Sauce
5. Matouk's West Indian Salsa Picante Hot Sauce
6. Matouk's Salsa Picante Hot Pepper Sauce
7. *TIE* Ass Kickin' Habanero Popcorn *and* Gator Hammock Hot Gator Sauce
8. Georgia Peach & Vidalia Onion Hot Sauce
9. Marie Sharp's Habanero Hot Sauce
10. 50 Shades of Red Cayenne Pepper Sauce
BBQ & Grill Accessories
From smoker wood chips, charcoal & grilling planks to the award-winning line of GrillGrate products that fit virtually any type of grill, we offer a wide selection of must-have BBQ & grill accessories to help you smoke, grill and cook the tastiest foods you've ever had. Grilling and saucing tools, digital meat thermometers, and even charcoal and gas grills plus a variety of smokers, you'll find them all here through our partners. We're your one-stop source for everything you need or want to become King (or Queen) of the Grill. Our barbecue, smoker & grill products and accessories are also great gifts for your favorite outdoor chef and BBQ enthusiast.
Sauce for a Cause

If you like to do good while you eat well, visit our new Sauce for a Cause page. When you purchase any of the zesty products listed there, the manufacturers donate a portion of the proceeds to various charities and nonprofits including breast cancer research, protection of endangered species, church youth groups & missions, soup kitchens & families in need, animal shelters and rescue groups. Among the participating brands and products are Salvation Sauce, African Rhino Peri-Peri Hot Sauces, Dog-Gone BBQ & Hot Sauces, and Save A Dog Hot Sauce.
Meats and Cheese

The Carolina Sauce Company is now THE place to shop for the best deals on meats and cheese, including North Carolina country ham, bacon, buffalo and other natural meats and exotic game, Italian antipasto, salami, Spanish ham and chorizo, all types of cheese including the best cheddar and parmesan cheese, plus cheeses from Italy, France, England, Spain and more. We've partnered with carefully selected producers, importers and distributors of specialty meats and cheeses,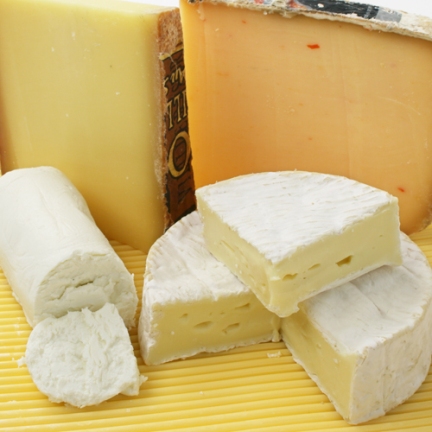 including the world-famous Johnston County Hams from Smithfield, NC; Dakota Buffalo Company, purveyors of all-natural, humanely and sustainably raised grass-fed and grain-finished buffalo; OliveNation, importers of Italian, Spanish and other European cheeses and meats; CyberCucina distributors of gourmet specialty foods; and others. Our partners will ship their quality meats and fine cheese straight to your home or business, at a reasonable price and with impeccable customer service. Make sure to visit our Meats and Cheese page as we'll be expanding our offerings to bring you greater variety, hard-to-find specialties, and great deals, too!
About Us, FAQ, Contact Us
Want to know more about who we are and what we do? Learn more about the Carolina Sauce Company by visiting our updated About Us/FAQ page, with answers to some of the most frequently asked questions we receive. If you have other questions or would like to contact us, visit our Contact Us page.
Low Carb, No Carb Sauces
Did you know that most hot sauces are very low in carbohydrates, and many are zero carb? Likewise, most Eastern NC barbecue sauces are also low carb, because they're vinegar-based and usually have no tomatoes or sweeteners. What's great about the low carb diet is that not only do you get to eat meat, but you can make it taste good, too! We've put together a section of Low Carb Sauces in our store to help you out. Of course, some of these sauces may say ZERO carbs on the label, but actually have < 1.0 carbs, so be careful. But for almost any of these, a little dab will do ya!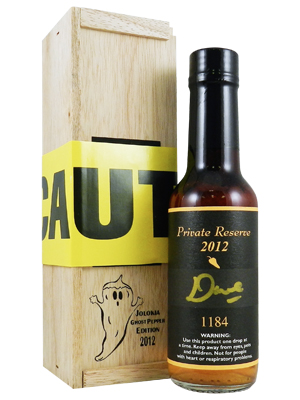 Buy Dave's Insanity Private Reserve Hot Sauce 2013 Edition Here!
When nothing but the very best (and hottest) will do, there's Dave's Gourmet Insanity Private Reserve. The wooden coffin wrapped in yellow 'caution' tape only hints at the incendiary power of this hot sauce! The 2013 edition is generally considered to be the hottest Private Reserve ever released (several times hotter than the original Dave's Insanity Sauce). Made with the hottest ghost pepper extracts, Dave's 2013 Private Reserve Insanity Hot Sauce definitely isn't for the tender tongue or weak heart. Produced in small batches each year, with each bottle numbered and hand-signed by Dave himself, each edition of Insanity Private Reserve sauce is a valuable collector's item. In fact, Dave's Gourmet claims a bottle from an earlier year sold for $1,000! Don't despair: You can buy the 2013 edition of Dave's Private Reserve here for far less, while supplies last...
Kosher Products
If you're looking for Kosher hot sauce, kosher barbecue sauce, Kosher seasonings and other Kosher products, you're in luck! For your convenience, we've assembled a page where you can see all the different Kosher Products we offer in our online store. We'll keep adding to our selection of Kosher certified zesty products, so keep checking back for new arrivals.
Hot Wing Sauces and Mustards
Check out our selection of the very best chicken wing sauces, starting with the original Anchor Bar hot wing sauces from Buffalo, NY. We also carry the award-winning line of DEFCON Wing Sauces, which range from the mild DEFCON 3 to the dangerously extreme-heat DEFCON 1. We can also help you find the perfect mustard and ketchup to slather on your sandwiches, hamburgers and hot dogs.
Gluten-Free Products

If you're looking for tasty gluten-free sauces and seasonings, you're in luck! We have delicious gluten-free barbecue sauce, feisty gluten-free hot sauce, zesty gluten-free rubs, flavor-packed gluten-free salsas and condiments, and more. For your convenience, we've assembled a page where you can see all the different Gluten-Free Products we offer in our online store. We also offer gluten-free resources & guide books for shopping and dining out.
Clubs & Gourmet Gifts
Whether you're shopping for a housewarming gift, a tasteful business or corporate gift, a thank-you gift for a host, a special-occasion gift for a foodie or chilehead, or simply wish to treat yourself to an assortment of delicious products for the pantry, grill or table, you'll find what you're looking for on our new Gourmet Gifts page. From imported pastas, vinegars and oils to fine cheeses, BBQ and grilling gifts, and international selections, we offer something for every taste and budget. We also offer a variety of Monthly Clubs, including popular hot sauce and BBQ "Sauce of the Month" clubs featured on the Food Network, plus monthly Bacon Clubs, Coffee of the Month Clubs and more, available in 3, 6 and 12-month programs as well as pay-as-you-go options. And when you need a last-minute gift, nothing beats one of our Gift Certificates for hot sauce, BBQ sauce, gourmet foods, kitchen & grilling products, or even posters & art. Keep checking our site because we plan on adding more gift options, clubs and gourmet products.
Cookbooks & Food Art
Do you collect or enjoy reading cookbooks? Are you searching for new recipes, fresh culinary inspiration, or books about grilling, special diets or other food topics? Visit our Cookbooks page and and see our featured selection of cookbooks! And if you've always wanted to publish & sell your very own cookbook or print a collection of family recipes into a beautiful book as a wedding gift or keepsake, you can now do so through our new partner, Blurb! You can also subscribe to great cooking & food magazines including Chile Pepper Magazine. And if you're re-decorating your kitchen or dining room, or looking for some cool food-related posters or art prints, make sure to check out our collection of our favorite food & beverage art & posters.
Recipes, Product Info, Etc.
Looking for zesty, easy to make recipes? Curious about an untried product? Want to see our list of the hottest hot sauces? Then read the Carolina Sauce Company Blog, where you'll also find cooking and grilling tips, new product reviews, special announcements and other useful information for living the zesty life. Don't miss out on upcoming special sales and coupons: simply subscribe to our free RSS blog feed by clicking on the button below and get all the breaking news:
Subscribe in a reader
Gift Certificates
Give the gift of good taste and the fun of finding new foods to savor with an electronic Gift Certificate for bacon, hot sauce, BBQ sauce, fresh seafood, bison and other exotic meats, imported gourmet specialties and other fine foods. Some of our partners even have old-fashioned gift cards and printed certificates that you can order online. Available in a wide range of amounts to fit any budget, these gift certificates can be sent directly to the intended recipient or to you. Best of all, they never expire!
Customer Reviews
Read what many of our satisfied customers have to say about the Carolina Sauce Company, our delicious products, our great low prices, and our outstanding customer service!
Low Sodium, No Sodium Products
Are you looking for low sodium and no sodium sauces and condiments? How about seasonings and dry rubs made with no salt? Who says a low salt or sodium restricted diet has to be bland and boring? Check out our selection of Low Sodium and No Sodium Sauces, Seasonings, Condiments and Snacks! All of the products listed in our Low Sodium, No Sodium section have no more than 35 mg of sodium per serving, qualifying them as "very low sodium" products. Now you can spice up your food and wake up your taste buds while staying on a low salt diet!
Hot Sauce & Salsa
Our on-line store has a huge selection of hot sauce from all over the world and in all heat levels, from mildly spicy and full-flavored hot sauces to the most extreme-heat ultra-hot sauces and pepper extracts. We provide ingredient lists and nutritional information from labels, as well as product descriptions. If a hot sauce label includes recipes, we mention that, too. If you're looking for salsa, you've also come to the right place. And if you are a serious chilehead who is searching for the hottest hot sauces available, you'll enjoy browsing through the hottest hot sauces we carry!
NC Specialty Foods Association

We're a proud member of the North Carolina Specialty Foods Association. Check out their website for great information about speciality foods in North Carolina.
Top Ten Hot Sauce Slogans?
It seems as if everyone has a cute slogan for their hot sauce website, so we've been racking our brains to come up with one. So far, we've decided that none of these will be our slogan. If you're easily offended, then you won't want to Read the List!