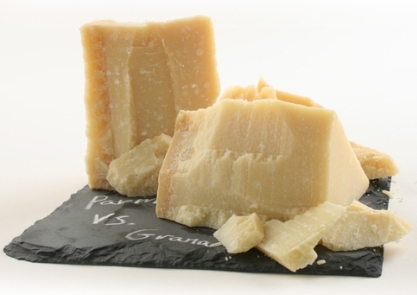 Classic Italian Hard Cheeses
This pair of cheeses demonstrate the subtle differences between Grana Padano and Parmigiano-Reggiano by letting you taste them side by side: You'll receive 1/2 pound of each. Enjoy them chunked and lightly drizzled with a good balsamic vinegar, shaved over Caesar salad or carpaccio, or grated over soup or pasta.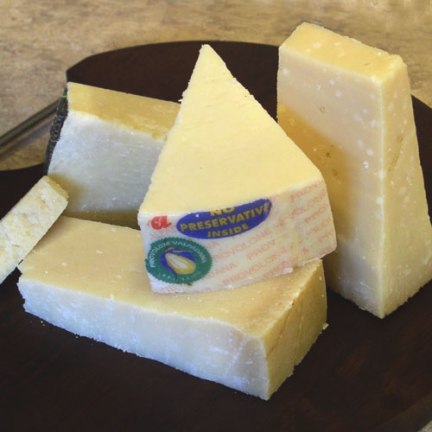 Formaggio del Cucina Italian Cheeses Gift
This assortment of Italy's most famous regional cheeses is essential for making classic Italian recipes. Enjoy on their own or add to pastas, risottos, gratins, vegetable dishes, soups and salads. Includes a half-pound each of Pecorino Romano, a hard sheep's milk cheese for shaving or grating, aged over a year for salty, tangy flavor with a sharp, spicy finish; Provolone Piccante, made from cow's milk and aged over 9 months for a sharp and spicy flavor with a smooth finish; Parmigiano-Reggiano, made from raw cow's milk and aged over 18 months for full flavor with nutty notes and a grainy texture. Use grated or shaved, or in pieces drizzled with honey, and add the rind to stocks, sauces and minestrone; Grana Padano Stravecchio Oro del Tempo, made from raw cow's milk and similar to Parmigiano-Reggiano but aged over 22 months for a deeper, more complex flavor with sweet, fruity undertones.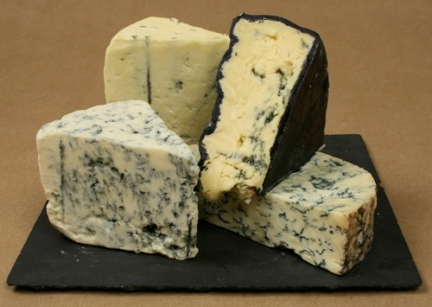 Blue Cheese Gift Set
This blue cheese assortment contains four of the world's greatest blue cheeses, including a half-pound each of Royal Blue Stilton from Leicestershire, England, with a rich and creamy texture, honeyed-cheddar flavor and stunning blue veins beneath a crinkly crust; Paladin Blue from Germany, a very mild and creamy blue cheese that can be crumbled or sliced and is delicious in green salads; Mountain Gorgonzola from Italy, an attractive white cheese laced with streaks of blue that's delicious in salads or drizzled with honey; and Fourme d'Ambert from France, a creamy, full-flavored blue cheese that's made frm raw cow's milk and cave-aged for at least 2 months.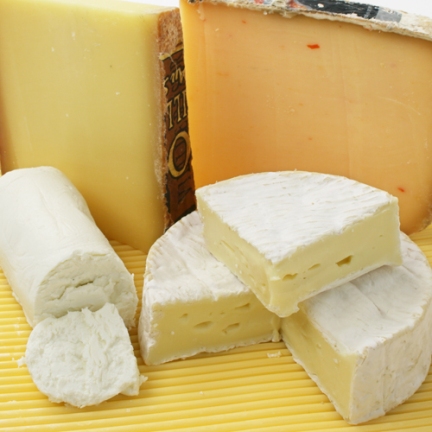 French Cheese Gift Set
This selection of fine cheeses from France includes Chevre by Couturier, a fresh, spreadable goat cheese that's wonderful on salads, with crackers as a snack, or with fruit for dessert (4 oz); Camembert a soft-ripened creamy cheese from Normandy that's similar to Brie but more full-flavored (8.8 oz); Abbaye de Belloc, a mouthwatering cheese made from raw sheep's milk in the Pays Basque region of Aquitaine (8 oz); and Gruyère de Comté, a cow's milk cheese that's made by by local villagers in alpine dairies and aged for at least 6 months to produce sweet and nutty flavor notes (8 oz).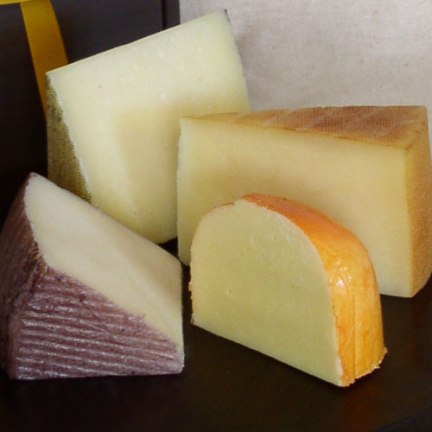 Spanish Cheese Gift Set
This Spanish cheese gift set showcases the interesting varieties of flavors and textures found in Spain's regional cheeses, and includes a half-pound each of Manchego from La Mancha, a pleasantly grainy cheese made from sheep's milk and sporting rich, complex flavor; Mahon, a firm, tangy and fragrant cow's milk cheese from Menorca; Idiazabal from Basque country, a smooth, subtly smoky and sharp sheep's milk cheese with a rustic bouquet; and Murcia al Vino a wine-dipped goat's milk cheese from Murcia.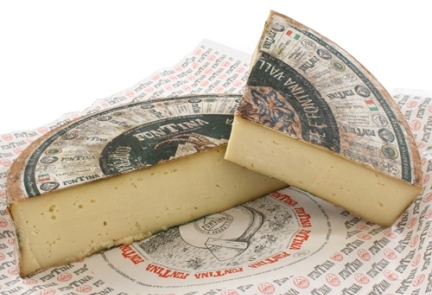 Fondue Cheese Gift Set
Enjoy traditional Alpine fondue at home with this set of three classic melting cheeses: Emmentaler, Gruyere, and Appenzeller. Simply blend with white wine, Kirsch brandy and spices and enjoy with some crusty French bread and your favorite white wine. This selection of fondue cheeses comes in the correct ratios to make a classic cheese fondue.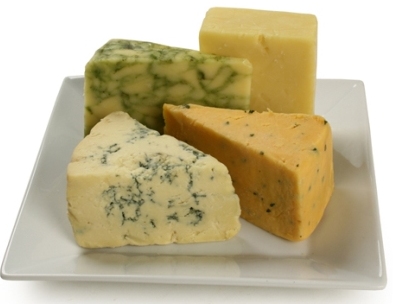 Classic English Cheeses Gift Set
We've included 4 classic English cheeses in this set, 1/2 lb each: Denhay Mature Cheddar is an authentic English Farmhouse Cheddar, aged at least 11 months. Royal Blue Stilton is creamy and tangy, perfect for snacking or in salads and other dishes. Sage Derby is a mild and herbaceous cow's milk cheese that gets its intriguing green color from pulverized sage leaves added to the curd of Derby cheese. Cotswold is also known as "Pub Cheese." This hearty, crumbly cheese combines mellow orange Double Gloucester cheese with flavorful bits of chive and onion.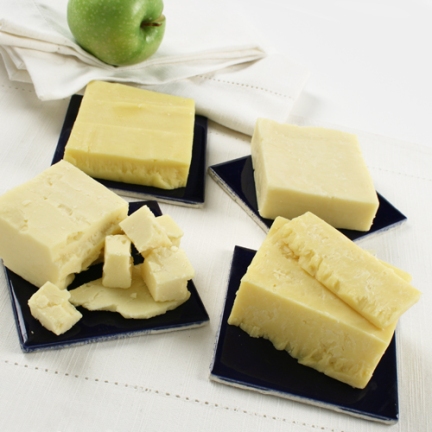 Cheddars of the World Cheese Gift
Although cheddar originated in England, cheddar style cheeses are made now in almost every cheese-producing nation. This assortment presents 4 excellent examples, 1/2 lb each: Denhay Mature English Cheddar, carefully matured and monitored until it is 11 months old when it is sold as premium West Country Farmhouse Cheddar; Grafton Classic Reserve Cheddar Vermont is an outstanding mature cheddar cheese selected for its pronounced flavor and smooth finish. Aged 2 years, it pairs nicely with dried fruits and nuts, crusty breads, and full-bodied wines. Great Ocean Road Cheddar is a sharp Australian white cheddar made from the milk of cows that graze on lush pastures swept by winds from the Southern Ocean; and Red Leaf Cheddar from Canada is aged over 12 months to produce a firm, sharp and tangy cheese with a sweet, honeyed flavor that's best enjoyed with ale and fruit.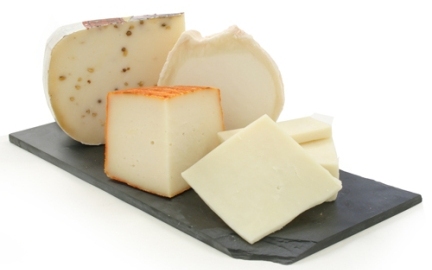 Great Goat Cheeses Gift Set
The goat cheeses in this selection capture the essence of their native pastures and exhibit fresh flavors such as thyme, tarragon, rosemary, lemongrass and pine. Easily digested by those who are lactose intolerant, goat cheese is also appreciated for its unique tangy flavor. This goat cheese collection features cheese from 4 countries, 1/2 lb each: Ibores is made in Spain from raw goat's milk cheese and displays both full and simple flavors which become sharper with age. The texture is hard and dense, and as it ages the rustic cheese is rubbed with a mixture of olive oil and sweet paprika. Buche de Chevre from Poitou in the Loire Valley of France has a hard, edible crust complete with a bloomy white mold coating. It is sharp and tangy near the rind but gets progressively richer and creamier toward the center. Dorothea from Holland is a goat's milk gouda that incorporates the flavors of potatoes and basil oil, for a uniquely earthy flavor that complements the natural tang of the goat's milk. American Goat Cheddar is a smooth pasteurized cheddar that's aged a minimum of 1 year for a complex, sharp and nutty flavor with a subtle undertone of classic goat's milk tang.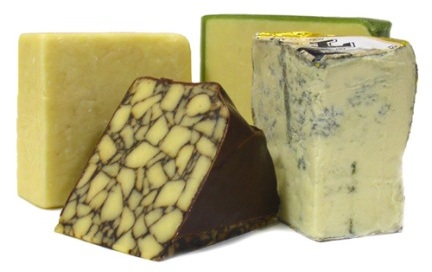 Irish Cheese Gift Set
These four distinct Irish cheeses, 1/2 lb each, are delightfully delicious and versatile. Cashel Blue from Tipperary is made from fresh fresian cow's milk and is ideal for melting or after dinner with some port wine. Dubliner tastes like a mature Cheddar, with the sweet aftertaste of Parmigiano-Reggiano. Cahill Farm Cheddar with Porter Ale is visually intriguing with dark brown marbling created by the dark porter ale that's mixed in during the cheesemaking process. The flavor is surprisingly meaty and pairs perfectly with ale. Shamrock Cheddar is aged for over 12 months to develop a creamy, taut texture with a sweet, grassy flavor.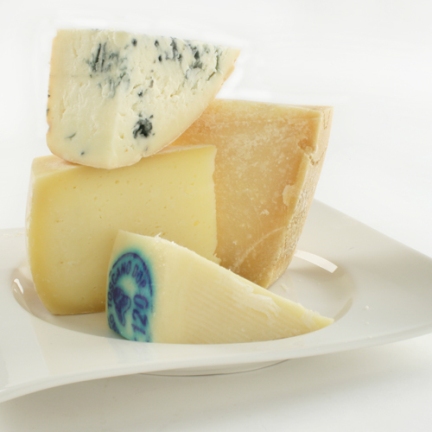 Italian Cheese Sampler
The four 1/2 lb. cheeses in this sampler represent different regions of Italy, each distinct in flavor and profile. Provolone Piccante is more complex and sharper than the younger, more common dolce (sweet) version. Provolone is great on sandwiches or chunked into an antipasto salad. Grana Padano Stravecchio is a firm, dry and fruity cow's milk cheese from the Po Valley of Northern Italy, aged for 20 months. Grate it over pasta, vegetables or soup, or drizzle pieces with extra virgin olive oil. Mountain Gorgonzola from Lombardy in Northern Italy is a savory blue cheese made from whole cow's milk. Pecorino Toscano is a soft and springy sheep's milk cheese from the hills of Tuscany. This young, sweet cheese is lovely with ripe pears.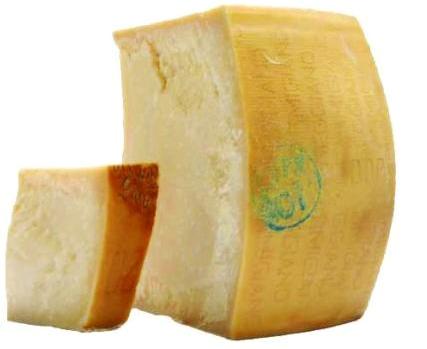 Parmigiano-Reggiano Cheese
Parmigiano-Reggiano, or Parmesan Cheese as it's called in the US, is as a delicious, full-flavored cheese for grating, shaving, using in recipes and enjoying on its own. By law, only cheese produced in the northern Italian provinces of Parma, Reggio Emilia, Modena, part of Bologna and part of Mantua may be labeled as Parmigiano-Reggiano. The 700-year-old production process is all-natural with no additives, just the pure milk of local cows, with cow's rennet and whey as starters. Aging for at least 18 to 20 months, this cheese is prized for it deep, complex flavors and dense texture. America's Test Kitchen and Cook's Illustrated have both voted this Parmigiano Reggiano the best Parmesan in America today. Enjoy pieces of Parmigiano-Reggiano drizzled with honey or a few drops of good balsamic vinegar. It's also delicious served with walnuts or pears. Available in two varieties: classic, aged over 18 months; and Stravecchio, aged over 22 months.