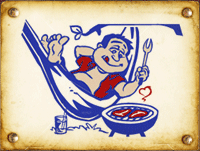 Carolina Sauce Gift Certificates
Need a gift for the hot sauce collector who claims to have everything? Are you a vegetarian who's not sure what to get the barbecue lover in your life? Uncertain about what to get for your favorite fiery-foods fanatic or someone who enjoys zesty flavors? Send each of them a Carolina Sauce Company e-Gift Certificate! Our gift certificates are redeemable for ANYTHING on the Carolina Sauces website (except for another gift certificate), are available in any amount you choose from $5 to $5000, never expire and can be re-used until the total amount runs out. The lucky recipient can even check the amount left on their gift card on our secure customer management system. All you have to do is specify the amount of the gift certificate and enter the recipient's email address, and the e-Gift Certificate is activated and emailed to the recipient within 24 hours. Carolina Sauces gift certificates are the perfect last-minute gift!
Bacon Gift Certificates from Bacon Freak
Give your favorite "bacon freak" a gift certificate redeemable for gourmet bacon, nitrite-free bacon, flavored bacon, bacon-flavored foods, bacon-themed accessories and clothing, bacon cookbooks and everything BACON! Bacon jerky? Yep. A bacon wallet? Check. Bacon coffee? Affirmative. How about bacon-scented candles and cologne? Absolutely! A bacon gift certificate is the perfect gift for the person who believes that everything is better with bacon. Click here to purchase Gift Certificates from $20 to $100. Once you purchase a gift certificate, a gift code will be sent to you via email. You can then forward the emailed code to the gift recipient or print out the email and gift it that way.
Click here for Seafood Gift Certificates & Gift Cards from The Crab Place, and give the gift of fresh Maryland seafood! Available in any amount and redeemable online for premium fish and seafood including crabs (hard and soft), crab cakes, shrimp, oysters, scallops, lobster, clams, fresh fish, seafood seasonings and more. Electronic gift certificates are emailed right away to the recipient, or you can have a gift card mailed via regular mail (and postage is free).
Purchase Gift Certificates for the Online Nature Mall for your favorite outdoors enthusiast, and they can select their favorite field guides, binoculars, bird feeders and even cookbooks! Gift certificates start at $25 and are emailed to the recipient 24 hours after you order. You can even include a personal message!
Click here for Fossil Farms Gift Cards redeemable online or at the Fossil Farms retail store in Boonton, NJ. Premium farm-raised exotic meats & game including ostrich, buffalo, alligator, antelope, elk, emu, kangaroo, pheasant, rabbit, venison, wild boar, grass-fed beef, Berkshire pork & more. Gift cards are mailed directly to you or to the recipient you specify during checkout. Free shipping!
Gourmet Gift Certificates from CyberCucina
CyberCucina offers an impressive array of gourmet foods from the USA, France, Italy and Spain, including fine vinegars & olive oils, pasta, tea & coffee, sauces & condiments, spices & seasonings, pantry items, gift baskets, plus fragrance & beauty products and products for the kitchen & home. Click here to purchase Gift Certificates ranging from $25 to $200, redeemable online. Gift certificates are promptly mailed directly to the recipient with your personal message in a gift card.
Gourmet Gift Certificates from OliveNation
For a true taste of Italy and genuine Italian foods, the clear choice is OliveNation, purveyors of classic Italian products including pasta, risotto rice, olive oil & vinegar, meats & cheese, baking supplies, spices & pantry staples, and even gluten-free products. Click here to purchase Gift Certificates ranging from $10 to $250, redeemable online. The Gift Certificate number will be listed on your e-receipt. Simply email that number to the recipient, or print the electronic certificate to gift by hand.
Gift Certificates from Art.com
A thoughtful gift for housewarmings, holidays, weddings, birthdays or any special occasion, Art.com gift certicates range from $10 to $500, are emailed to the recipient and never expire.
AllPosters.com Gift Certificates
AllPosters.com offers hundreds of thousands of prints & posters, so their Gift Certificates are the perfect last minute gift for anyone. Ranging from $10 to $500, they're emailed to the recipient and never expire.