Seduced By Bacon Cookbook
A love affair with bacon is passionate and enduring. Its come-hither aroma can transport you back to comforting times, and its enticing flavor is unrivaled. Bacon evokes memories of rich caramel, wood fires, and mouthwatering home-cooked meals. Oh, those voluptuously succulent, salty, crunchy morsels of pork! Almost any dish, whether savory or sweet, is better with bacon, and bacon has been the downfall of many a lapsed vegetarian. "Seduced by Bacon" offers sensuous dishes for breakfast, lunch, dinner, dessert, and any time in between. Delight diners with Pecan Waffles smothered in a Caramel-Bacon Sauce, arouse all your senses with an Open-Faced Cheddar & Turkey Bacon Sandwich with Beer-Glazed Onions, and titillate your taste buds with a French Apple Tart with Cheddar Cheese Crust & Sweet Brittle Topping. Every cook and connoisseur--in fact, anyone who eats--will savor the delectable recipes, tantalizing photographs, and fascinating bits of "baconry" in this fresh and innovative cookbook. A celebration of bacon, filled with gorgeous photographs and seductive new recipes both savory and sweet.
The BBQ Bible, 10th Anniversary Edition
Bigger and better than ever, The BBQ Bible is the ONLY book about BBQ and cooking on a grill or smoker that you'll ever need. Full-color photographs illustrate food prep, grilling techniques, ingredients, & the mouthwatering finished dishes. Packed with over 500 of the best BBQ recipes from around the world, The BBQ Bible also answers the most frequently asked grilling questions & provides proven tips, quick solutions to common mistakes, and everything else you need to know to master the art of BBQ.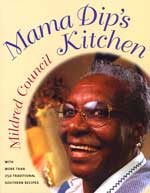 Mama Dip's Kitchen
For over 20 years, Mildred Council ("Mama Dip") has nourished thousands of hungry folks in Chapel Hill, NC. Her restaurant, Mama Dip's Kitchen, is a beloved community institution with loyal fans and customers from all walks of life, from NYT food writer Craig Claiborne to former UNC & NBA star Michael Jordan. This is Mama Dip's cookbook, featuring the same down-home, everyday Southern cooking that satisfies the body & soul, and for which its namesake restaurant is celebrated. In a charming memoir that introduces the recipes, Mama Dip fondly recalls growing up in rural NC and recounts the story of a strong woman determined to make her own way in the larger world. If you enjoy good old-fashioned Southern cooking or are interested in the culinary cultural heritage of North Carolina, you'll be enchanted by this cookbook.
Saveur Magazine
Saveur is the award-winning food & travel magazine that brings you the world of fine food and authentic cuisine through color-drenched photos, extraordinary stories, and inviting recipes steeped in the traditions, history and lore of their native lands. From exotic and elegant dishes for special occasions to timeless "comfort foods" passed down from generations, the recipes will enchant the senses and remind you of what food was before it was mass-produced, over-processed, converted into "lite" imitations or packed with artificial ingredients. Each issue allows you to experience what real food was meant to taste like, while sweeping you away on a sensual journey to faraway places. Available in 1-, 2-, 3- or 4-year subscriptions.
America's Most Wanted Recipes: Your Favorite Restaurant's Secret Recipes Revealed
Discover how to make your favorite dishes from Red Lobster, Olive Garden, PF Chang, The Cheesecake Factory, and more. This cookbook reveals jealously-guarded recipe secrets from America's most popular restaurants, and teaches you how to recreate your favorite restaurant meals at home with easy to follow step-by-step instructions. You'll find recipes to replicate Bahama Breeze's Grilled Fish Tostada Salad, Ben & Jerry's Cherry Garcia Ice Cream, Church's Honey Biscuits with Honey Butter, Girl Scout Thin Mint Cookies, Houlihan's 'Shrooms, KFC Original Recipe Chicken, Macaroni Grill's Chicken Scaloppini, PF Chang's Mongolian Beef, Ruth's Chris Sweet Potato Casserole, White Castle Burgers, and many others.
The Essential Gluten-Free Restaurant Guide
This gluten-free reference book is a must-have for anyone with celiac disease, gluten intolerance or on a gluten-free diet. Updated annually, The Essential Gluten-Free Restaurant Guide lists over 6,500 gluten-free restaurants in all 50 states, and includes 100 gluten-free lists from popular chains like P.F. Chang's, Panera, and Subway. If you or a friend or loved one enjoy dining out but have to eat gluten-free, this is THE book to own. Makes a great gift for the gluten-free business traveler, the on-the-go family with a member suffering from a food allergy, and anyone needing or wanting to avoid wheat & other gluten-containing foods.
The Essential Gluten-Free Grocery Guide
This gluten-free reference book is a must-have for anyone with celiac disease, gluten intolerance or on a gluten-free diet. The Essential Gluten-Free Grocery Guide helps you easily find your favorite gluten-free foods at any grocery store in the US. This book lists over 30,000 brand-name & store-brand gluten-free products utilizing a color-coded system to make meal planning & finding your favorite foods a snap. If you or a friend or loved one have to eat gluten-free or simply want to limit wheat & gluten intake, this is THE reference book to own. Buy an extra copy for your car so that you never have to guess when you go grocery shopping.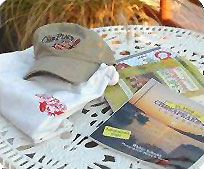 Seafood Cookbooks
If you want to learn how to cook fish and seafood like a real Marylander, you've come to the right place. These cookbooks are packed with plenty of tried-and-true specialties, and are a must for any seafood lover and every gourmet kitchen. Among our offerings are "Down at the Shore Cookbook" (featured on HSN), written by Rebecca Bent who was born in Baltimore, MD, and grew up spending weekends on the Bay learning to crab and fish; and the following cookbooks by Whitey Schmidt, known for his love of crabs and for mouthwatering crab recipes: "The Crab Cookbook," "Flavor of the Chesapeake Bay Cookbook," "The Chesapeake Bay Crabbiest Cookbook," "The Chesapeake Bay Oyster Cookbook," and "Chesapeake Bay Soups," each of which is personally autographed by Whitey himself. Click here to browse our Fish & Seafood Cookbooks.
Wine Enthusiast Magazine
Catering to the wine consumer, Wine Enthusiast is a lifestyle magazine that delivers expert information on gourmet food, spirits, travel, entertaining and, of course, wine. Each issue features extensive wine ratings, which are conducted by well-seasoned reviewers from major wine-producing regions all over the world. Indeed, this section of Wine Enthusiast is considered to contain influential assessments for wine consumers and professionals in the wine-making industry. While its main focus is on educating and appreciating good wines as an essential part of a good living, the magazine also regularly spotlights hot travel destinations, beautiful vineyards, food and wine pairings, serving suggestions, and much more. A two-year subscription is a great bargain, and you can also save on one-year subscriptions, but by far the best deal is a three-year subscription.
Gluten-Free Living
Gluten-Free Living is the first national, full-color magazine entirely devoted to helping you lead a happy, healthy gluten-free life. Gluten-Free Living answers your questions about ingredients so you feel comfortable about your diet choices. They decipher the food labels you encounter so that you can make informed choices, and they explain how nutrition fits into your gluten-free lifestyle. Gluten-Free Living covers everything from dining in college to maintaining a healthy pregnancy, as well as the small but important matters like how to safely enjoy a night out eating pizza with family & friends, or what to consider when selecting a bread machine. Each issue will ease any anxiety about the gluten-free life by providing you with well-researched information you can rely on every day.
Cook'n Recipe Organizing Software
Cook'n is the #1 best-selling recipe software on the market, with over 3 million satisfied users. Cook'n takes all the guesswork out of menu-planning, shopping for ingredients, scaling recipes for more or fewer servings, and figuring out what to make with ingredients on hand. With Cook'n, you can easily upload your favorite online recipes with a single click, and quickly enter your own recipes as well as search by ingredients, calculate nutritional values for recipes, prepare meal menus and even print your own family cookbook. You can install Cook'n on multiple home computers for one low price and receive free updates, and it comes with a 200% Satisfaction Guarantee. Available for PC, Mac and mobile devices, Cook'n Recipe Organizing Software is revolutionizing home cooking and making mealtime a breeze.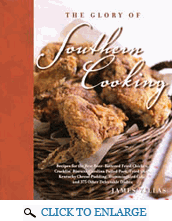 The Glory of Southern Cooking
Renowned food writer and proud Southerner James Villas has written this definitive southern cookbook featuring fascinating southern lore, cooking tips, and over 375 glorious recipes including Beer-Battered Fried Chicken, Cracklin' Biscuits, Carolina Pulled Pork Barbecue, Fried Okra, Kentucky Cheese Pudding, and Hummingbird Cake. You'll find something for every occasion among the traditional favorites, regional specialties, and new recipes from some of the South's most innovative chefs. Villas, the author of over a dozen acclaimed books, was the longtime food & wine editor at Town & Country and was named Bon Appétit's Food Writer of the Year in 2004. This Southern cookbook is a must-have for anyone interested in culinary history or who enjoys regional cookery.
Chile Pepper Magazine
Chile Pepper Magazine caters to folks who enjoy hot and spicy foods from all over the world. With a bountiful selection of recipes, this bimonthly magazine will guide you through Eastern Europe, Asia, Africa, Central America, Mexico and the Caribbean, as well as the Cajun, Texan and Southwestern cuisine of the U.S. in search of the most flavorful and fiery dishes. In addition to recipes, each issue features informative articles about every aspect of zesty living, plus the latest news on hot sauces and other fiery foods, and a spectacular array of mouthwatering photographs to dazzle your eyes and titillate your taste buds. A subscription to Chile Pepper Magazine is essential for anyone who wants to stay on top of what's happening in the wonderful world of hot sauces, chile pepeprs and fiery foods. Makes a great gift for your favorite chilehead or fiery-foods fanatic. A two-year subscription is the best bargain, but you can also save when you subscribe for one year.
Steel Cookbook Holder
This Steel Cookbook Holder sports a fresh new design in brushed stainless steel. The twin holding arms are spring-loaded and tipped with black rubber ball ends to keep your cookbook open and neatly in place. You can adjust the rear support legs to the proper angle, and to fold the cookbook holder down for easy storage. And the black rubber ball feet and bottom molding will keep the holder steady. This cookbook holder is both practical and sleekly elegant, fitting in with any kitchen decor.
I Love Bacon Cookbook
This bacon-themed cookbook features over 50 recipes covering everything from brunch, soup, salads & side dishes to numerous meat, pasta and fish entrées, plus cocktails and even bacon desserts like Maple Bacon Ice Cream. "I LOVE BACON!" is written by Jayne Rockmill and includes recipes from such popular and prominent chefs as Cat Cora, John Besh, Ming Tsai, Jasper White, Pichet Ong and Julian Medina. Among the bacony dishes are classics like Spaghetti Carbonara and Bacon Bread Pudding to more eclectic fare such as the Bakon Mary Cocktail and Chocolate Bacon Cupcakes. A portion of all proceeds go directly to charity: The Food Bank for NYC and Share Our Strength (the leading national organization working to make sure no kid in the US grows up hungry). This cookbook makes an excellent gift for any Baconista.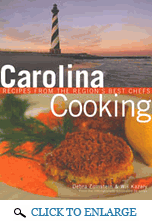 Carolina Cooking
Featuring recipes from some of the best chefs in North and South Carolina, "Carolina Cooking" is the companion book to the internationally syndicated TV series by the same name. With this cookbook, even a novice or aspiring cook can become a southern gourmet as the instructions show how to create these signature dishes in 30 minutes or less! Carolina Cooking showcases recipes from more than 50 of the top restaurants in the Carolinas, including Four Square Restaurant in Durham, NC; Pewter Rose Bistro in Charlotte, NC; The Angus Barn in Raleigh, NC; Christopher's New Global Cuisine in Winston-Salem, NC; The Speedway Club in Concord, NC; Villa Romana in Myrtle Beach, SC; Crescent Grille in Camden, SC; Solstice Kitchen and Wine Bar in Columbia, SC; and more. Carolina Cooking is a wonderful gift idea for North Carolina and South Carolina ex-pats and anyone else who wants to enjoy the best of the Carolinas at home.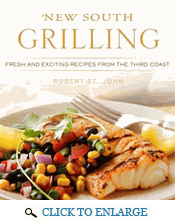 New South Grilling
In New South Grilling, Robert St. John brings all the flavor and fun that have made his "Deep South" books a huge hit. This time, however, his recipes are showcased with gorgeously lush, full-color photos that will inspire every backyard BBQ fan to fire up the grill. From fun party food to succulent burgers, elegant seafood, and the perfect cocktails to wash it all down, this cookbook pairs flawless technique with easy-to-follow instructions for witty, flavorful food combinations that will dazzle and delight friends and family. Recipes include Grilled Oysters Rockefeller, Dr. Pepper-Glazed Ham, Key Lime Grilled Shrimp with Pecan-spiked Rice, Zydeco Chicken, Andouille-Stuffed Prime Rib, Ginger Soy Salmon, Grilled Peach Shortcake with Peach Ice Cream, Seersucker cocktails, Not-Your-Grandmother's Mint Julep and more. You'll also find guaranteed no-stick marinades that make grilling a breeze, even seafood!
Design, Write & Publish Your Recipes!
Have you dreamed of publishing your recipes or creating your own cookbook? Now you can do so, easily and affordably, with Blurb! You have full creative control: Use your own layout or select from Blurb's templates, add your text, photos and artwork, and choose from multiple sizes, starting at only $3.95. Books are printed and shipped to you within 7 to 10 days from your order, with professional, bookstore-quality printing, binding and covers. You can order as few as 1 book at a time, or many. Whether you want to create a family keepsake or special wedding gift that will be treasured by loved ones, or give a unique gift to everyone who's been raving about your cooking, or even make a little money by selling your cookbooks, Blurb will make your dream a reality.