Italian Extra Virgin Olive Oil Gift Set
Our Regional Italian Extra Virgin Olive Oil Pantry features premium olive oils from 4 regions of Italy to satisfy all forms of cooking and taste. Includes 1 bottle each of Frantoio di Montecroce "Gentile" (Sweet Taste) EVOO, Fratelli Aprile Il Olio Novello 274th 2010 Harvest EVOO, Extra Virgin Olive Oil from Apulia by Allegrini and Hazan, and Frescobaldi Laudemio EVOO.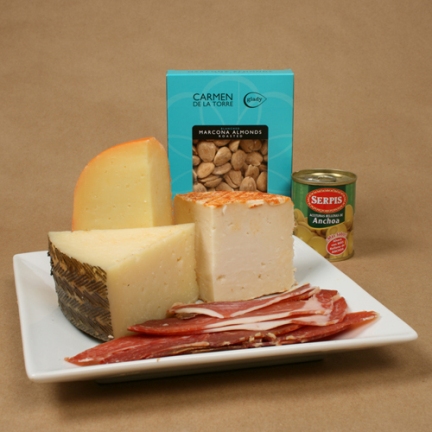 A Little Bit of Spain
Tapas are small savory snacks traditionally served in Spain with sherry, beer or wine. This Spanish gift set includes Jamon Serrano: A cured Spanish ham from the famed white pig, salted, hung in cool conditions and cured for 15 months for a superior and complex taste. Enjoy with ripe melon or on its own. Pre-sliced, 3.5 oz. Manchego: Spain's most popular cheese, made from sheep's milk and aged for 3 months for a smooth texture and a delicate flavor. 8 oz. Murcia al Vino: a mouthwatering wine-bathed goat cheese from the Murcia region of Spain. 8 oz. Mahon: A full-flavored cheddar-like cow's milk cheese from the Mediterranean island of Menorca, aged for 3 to 6 months. 8 oz. El Serpis Anchovy Stuffed Olives: Juicy olives stuffed with delicate anchovies from Andalucia. 1.79 oz. Marcona Almonds: An essential element of traditional Tapas with a unique, rich flavor. 4 oz. Chorizo: The traditional dry sausage of Spain, richly flavorful and excellent for recipes and for Tapas. 7.9 oz. Piedras de Espana: slender Largueta almonds are coated in sugar then drizzled with chocolate. 4.4 oz. Torta de Aciete: Delicate, crisp, and slightly sweet with a gentle flavor of olive oil and a hint of anise. Addictively delicious! 6.34 oz.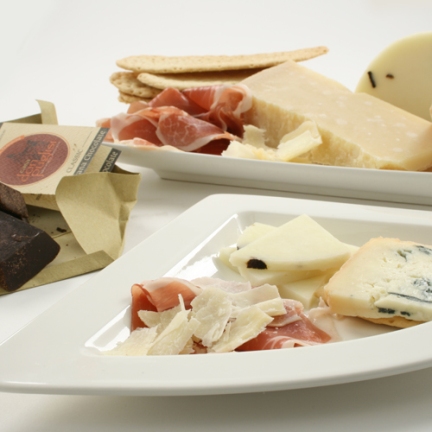 A Little Bit of Italy
This selection of Italy's cheeses, meats and sweets embodies the best of Italy and includes Sliced Prosciutto di Parma pre-sliced for antipasto or sandwiches, or layering over melon, ripe figs or wrapped around a Grissini (Italian breadstick). 3 oz. Sicilian Eggplant Caponata: This mouth-watering spread from Sicily is ideal as part of an antipasto or an anytime snack on crostini. 10 oz. Provolone Piccante: This sharp, full-flavored provolone is rarely available in the U.S. and a real delicacy. 8 oz. Grana Padano Stravecchio: From Northern Italy, this hard cheese is sweeter than Parmigiano and is excellent for savoring or in recipes. 8 oz. Mountain Gorgonzola: Lombardy's famous blue cheese, the mountain variety is semi-firm yet spreadable, salty and savory, without an overpowering "blue bite." Delicious in salads or spread on flatbread, try it drizzled with honey for a treat! 8 oz. Crostini Tuscan Crackers: These all-natural Italian flatbreads are the perfect accompaniment for cheese. 3.88 oz. Tiramisu: A beloved Italian dessert prepared from a traditional local recipe. 3 oz. Profiteroles: Delicate Milanese pastry puffs filled with vanilla custard and drizzled with fine chocolate. 3 oz.
All American BBQ Gift Set
Bourbon, Molasses, Whiskey and Vidalia Onions are all homegrown ingredients. Our All American BBQ gift includes a bottle each of Bourbon Molasses BBQ Sauce and Roasted Peach Whiskey Sauce spiced with garlic & chile, plus Vidalia Onion Fig Sauce, which is thick & full-bodied, perfect for basting meats while grilling or roasting, and includes a recipe for Fig & Onion Pork Tenderloin. And to put an end to overcooked steaks and undercooked chicken, we've thrown in a Cooked Perfect Color Changing Meat Thermometer.
Spanish Gourmet Pantry
Richly flavorful, romantic, seductively exotic and bold, Spanish cuisine is a veritable symphony of flavors, textures and aromas that enchant the senses. This suberb selection of quality Spanish ingredients and foods help you recreate quintessential Spanish dishes at home. Comes with Olive Oil Tortas (small cakes), Bonita Tuna Escabeche, Larguetta Almonds, Spanish honey, EVOO, Arbequina Olives, Bomba rice, Natural Salt Crystals, Pimenton de la Vera Sweet Paprika, capers, saffron, Romanico Black Olive Spread, Piquillo Peppers, Mas Portell Chardonnay Vinegar and aged sherry vinegar, all at a discount price.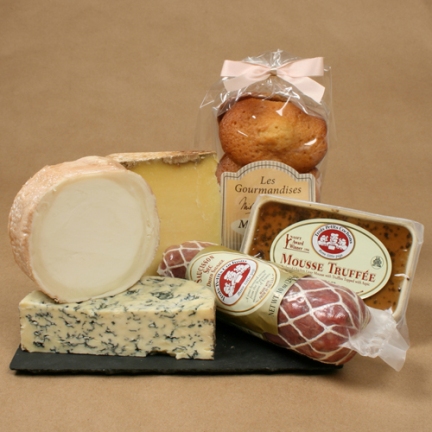 A little bit of France
This gift set of fine French cheeses comes with charcuterie and accompaniments, and includes Camembert: Similar to brie but with a slightly more robust flavor. 8 oz. Chevre: This crumbly aged goat's milk cheese features a tangy rustic flavor with hints of lemon. 4 oz. Gruyere de Comt: A handmade, artisan raw-milk cheese that's aged for 6 months to develop a tight-knit texture, satiny body and nutty flavor, perfect for snacking or in a croque monsieur or a souffle. 8 oz. Mousse Truffee: A smooth, silken paté enhanced with the earthy flavor of black truffles. 8 oz. Mini Toasts: Perfect for cheese, paté or snacking. 2.75 oz. Saucisson Sec: This naturally air-dried pork sausage from the mountains of France is perfect with cheeses. 10 oz. French Madelines: World-renowned sweet, moist pastries from Paris. 6.4 oz. Bornier French Mustard: Prized by mustard connoiseurs for its classic flavor. 7 oz. Trouvillais by Biscuiterie de l'Abbaye: These shortbread cookies from Normandy are perfect for ending a light lunch on a sweet note, or after dinner with coffee and tea. 4.4 oz